Give the Gift of our Shop Local Love Drogheda Gift Card this Christmas.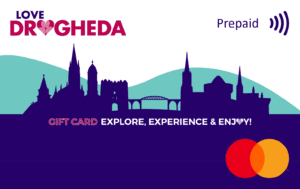 We are seeking the support of businesses with capacity to do so to reward their staff this Christmas and further support local businesses and your local town by gifting the Love Drogheda Gift Card.
By choosing the Love Drogheda Gift Card you are helping to support local employment, our Gift Card is funded through the Love Drogheda Business Improvement District and no commission is charged to the retailers to accept the card, thus every cent spent in Drogheda stays in Drogheda.
The Love Drogheda Gift Card has over 170 participating businesses that are helping to provide a huge level of variety for users of the gift card whilst supporting valuable employment to the town and maintaining a healthy high street. The Gift Card is accepted across food, clothing, health and beauty, hospitality, fuel, fitness, and everything in between.
For more information on the Small Benefit Exemption Scheme, please visit https://www.gov.ie/en/press-release/5bd34-minister-donohoe-publishes-finance-bill-2022/#small-benefit-exemption
And https://www.revenue.ie/en/employing-people/benefit-in-kind-for-employers/valuation-of-benefits/small-benefit-exemption.aspx